I am a big fan of Julie Morgenstern's books. She has a way of boiling down a hairy problem to the essentials and then providing a step-by-step process for walking a person through the solution.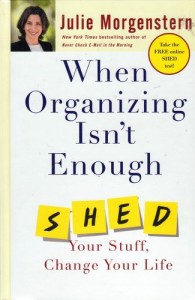 Julie's original work Organizing From the Inside Out, is a great place to start if you want to do DIY organizing. I use this book as a basic text for the group program "Clutter Management" offered twice a year.
Julie's latest offering, SHED Your Stuff, Change Your Life, is a timely message for those of us realizing there is more to life than status, things, or even security. We yearn to make a difference, to become a force for change, to be light in a dark world.
This answer to the question "What is SHED?" from Chapter One will give you some insight into how this book can impact your future:
SHED is a transformative process for letting go of things that represent the past so you can grow and move forward. The four steps of SHED (Separate the treasures, Heave the Trash, Embrace Your Identity, Drive Yourself Forward) provide a framework for proactively managing change, transition, and the feeling of being stuck and unsure. By releasing the defunct, extraneous, and burdensome objects and obligations that are weighing you down, you create the space to discover what's next and gather the energy and courage to move forward.
I have not finished the book. This is not one to rush through, but to thoughtfully and actively immerse yourself in the process as you go. I heartily recommend this read!